Studying in a foreign country can be both an exciting and scary prospect, but it's an excellent opportunity to discover another part of the world. The UK is a popular place for international students to go to university, and the number of international students in the UK has more than doubled in the past 20 years. 
Whilst moving to a new country for university can be exciting, there are some challenges that you'll likely face as an international student. One major challenge involves finding somewhere to live during your time as a student in the UK. In this blog post, we'll cover the options available to international students in terms of renting and looking for somewhere to live.  
Identifying accommodation options before coming to the UK
Looking for appropriate accommodation before you actually get to the country can be challenging, as you won't be able to view the rooms or building in person. However, you can still get an idea of what your accommodation will be like from taking virtual tours or looking at photos online. 
The two main types of student accommodation are halls of residence and private student housing. There are benefits to both, so it's important to consider which sounds like it will be the best fit for your accommodation needs 
Student halls
You'll usually have the option to live in university-owned halls of residence, or privately owned halls. Both Newcastle and Northumbria offer a variety of university-run halls of residence which are often a popular choice for first year students. University halls of residence ensure that you are dealing with the university as your landlord and everything relating to finances is usually streamlined. 
Private halls are also an option and are often made up of studio apartments. With private halls, you'll have to deal with a private landlord, however, they are often more readily available when compared to university-owned halls. 
Private student housing
Alternatively to halls, private housing is a popular living arrangement for students After first year, most students tend to opt into a private house share with friends or other students. Whilst this can be difficult to arrange at first for international students, there are often people in similar situations who can be found on social media or websites such as SpareRoom. 
Finding the best area for you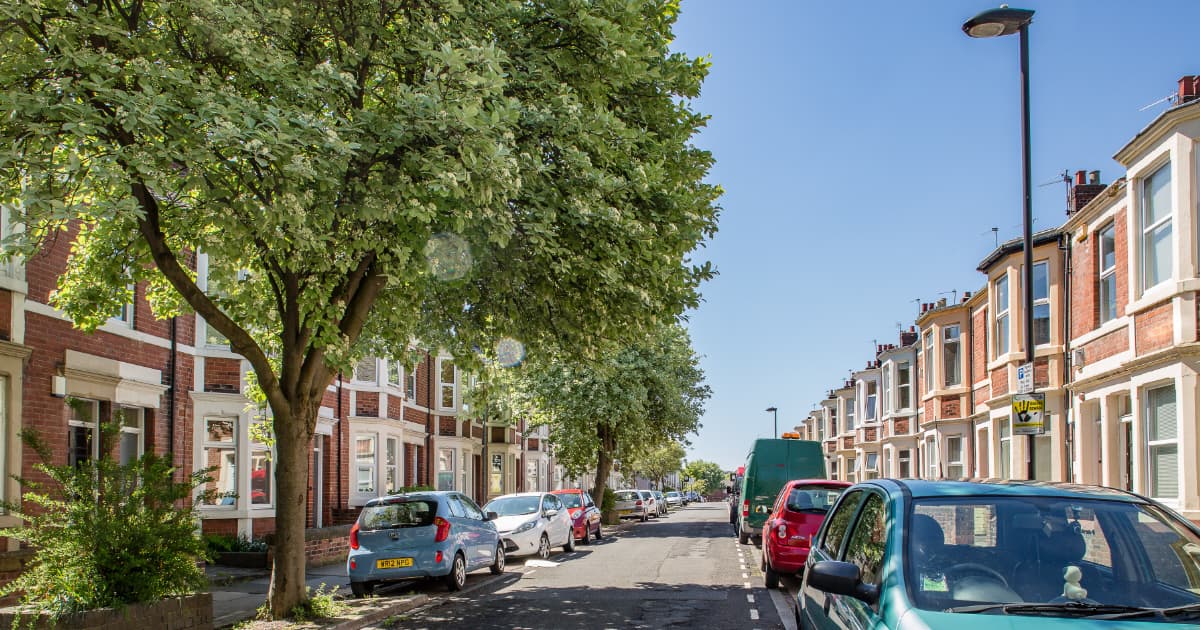 Although difficult if you're not already in the UK, it's important to get an understanding of what area of a city might be the best for you to live in. This is where it's best to do as much research as possible and you'll need to decide what's important to you in terms of things nearby such as transport links and shops. 
Areas which are close to supermarkets, shops, bars, and public transport stations are often popular with students. In Newcastle; Jesmond, Heaton, and Sandyford are often regarded as student hubs and are popular due to their proximity to amenities, transport links, and the university campuses. 
Understanding fees and deposits
For peace of mind and to assure you aren't being taken advantage of, you should get a good understanding of how fees and deposits work before you start the process of signing for a property. Landlords and estate agents should not charge any sort of fee to start or renew a tenancy agreement. 
However, you'll likely be asked to pay a holding deposit once you have found a property that suits your needs, and you want to secure the right to live there. Usually, you'll send over a holding deposit before signing the tenancy agreement – which allows the agents time to carry out background checks. Holding deposits are usually no more than one week's rent, and it's a good idea to find out when you'll get it back before agreeing to hand it over. 
Council tax considerations
All registered students that are actively studying are exempt from paying council tax, but you may need to provide your Student Certificate to receive the exemption. The certificate should be available from your university and it's a good idea to ask for a copy once your course begins. 
It's worth bearing in mind that after you graduate, you'll then be liable to pay council tax if you are renting somewhere. 
Tenant's rights and responsibilities
There are certain rights and responsibilities you have as a tenant that you should always be aware of. Here's an example of some of the important ones: 
Landlords should maintain the property to a good standard and the property should be in a good liveable condition from the start of the tenancy.

 

All repairs should be made promptly
The landlord should give sufficient notice before visiting and should not come into the property without permission

 

Your deposit will be protected by the Deposit Protection Scheme and you should receive details regarding where it is being kept and how you can get it back.